HEADLINES: 161 days later Bayern top the Bundesliga, Dortmund's harmless death-lineup, the race for third place & Europe
Bayern not fazed by unfocused Wolfsburg
Discussing the nuanced tactics of a 6-0 drubbing runs the risks of being not particularly insightful, but perhaps there is more to the match than the words of Bruno Labbadia "Bayern were very good, we were very bad". In short, FCB was able to overcome a very disappointing Wolfsburg side, whose biggest chance arguably came from a poorly played Manuel Neuer ball in the second minute. When Yannick Gerhardt couldn't figure out what to do with it, few people expected that it would be all the gifts Wolfsburg would get in Munich. In the end, thanks to the six goal margin, Bayern have overtaken BVB atop the Bundesliga. Those are the CliffsNotes and while in the aftermath there was a lot of regurgitation of the tiresome "Müller-Hummels-Boateng were fired up by Löw's decision to drop them from the DFB XI" narrative, and\or discussion of the obvious topics from "Bayern firing on all cylinders just at the right time" or "Lewandowski rounding into form" and other typically lazy sportswriting tropes. Instead of being the 437th person to discuss that, here at the Bundesliga Bulletin, the focus will be on a couple of key tactical moves vis a vis Kimmich, Guilavogui and the Bayern press, plus a general breakdown of all that Bruno Labbadia wanted but did not get from his Wolfsburg squad. So by all means, scroll on down to the DEEP DIVE section.
---
Dortmund leave it late against Stuttgart
Once the hunted and after 161 days on top, Borussia Dortmund have now become the hunter, and felt all the pressure of beating the much-improved Stuttgart side, before finally escaping with a 3-1 win. It was a win that had to do more with fighting and determination than brilliant footballing exhibition, though in light of the massive downpour and Stuttgart's deep block 5-3-2 defense that was always going to be difficult. The 3-1 victory, coupled with Bayern's 6-0 shellacking, meant that BVB, level on 57 points, are behind on two goals in goal difference. You can read more on this game, including Dortmund's "Death lineup" and its vulnerability in the Dortmund section two paragraphs down!
---
But, let's check on the rest of the Champions League hopefuls first:
Leipzig still winless at home in 2019, Gladbach's defensive game plan works against Mainz
RB Leipzig once again were unable to score against Augsburg, in what is now their fourth goalless draw of the season. On the one hand, Augsburg were without 12 players - ten injuries and two suspensions - and thus put up a total of 0.18 XG against the league's best defense, which should please Ralf Rangnick, but on the other they failed to score and win at home again.
While in the past few weeks, RBL had to do without the goals and sometimes the services of Timo Werner, who seems unfamiliar with the term contract year, this time they were missing their perhaps best outfield player of the season in Yussuf Poulsen. With Werner missing all three of his headed attempts and Poulsen out, Leipzig were always gonna have trouble scoring, and since their third leading scorer, Willi Orban, did not score a set piece goal, the match ended 0-0. The front end of that result is as important as the back end, since it meant that astonishingly, RBL are yet to win at home in 2019, despite conceding only a set piece goal to Axel Witsel and the counter which Andrej Kramaric finished. Meanwhile, they have won all four of their road games, albeit against three of the worst teams in the league and Düsseldorf who were 14th at the time of that 0-4 Leipzig win.
Overall, although RBL are unbeaten since the unlucky loss against Dortmund on matchday 18, and sport a record of 5 wins and 2 losses with 15 points vs 14.81 expected points, they don't always look impressive in doing so, at least not on the offensive end. The 2 goals conceded in 2019 certainly is impressive and Péter Gulácsi, arguably one of the 3 best Bundesliga keepers this season, added another clean sheet to his tally of 12. The Hungarian's development and key saves like the one he made on an off-balance Michael Gregoritsch shot has been one of the big reasons why RBL, in a pre-Nagelsmann, post Naby Keita world, are at least in shouting distance of Bayern and Dortmund. That's the glass half-full take, but Leipzig's next 4 games are Schalke (away) Hertha (home) Leverkusen (A) and Wolfsburg (H). That is before traveling to Borussia Park to visit Gladbach, who are 10 goals behind them on goal difference.
Dieter Hecking was able to stop his team's slide against Mainz with a one goal win. Florian Müller made three excellent saves in one sequence in the second minute to keep it scoreless, but producing one Thorgan Hazard long distance shot over the next hour against Mainz is certainly nothing to be proud of for the Foals. BMG did end up winning on a set piece where Tobias Strobl's quick thinking resulted in Nico Elvedi scoring and they should get credit for not allowing any big chances for Mainz: their highest XG opportunity was rated as 10% or 0.1 XG. Part of the reason for that was Dieter Hecking's cautious approach: Tony Jantschke filled in for the injured Matthias Ginter, which was always unlikely to help ball progression. But hey, at least the defenders practiced some passing with Yann Sommer: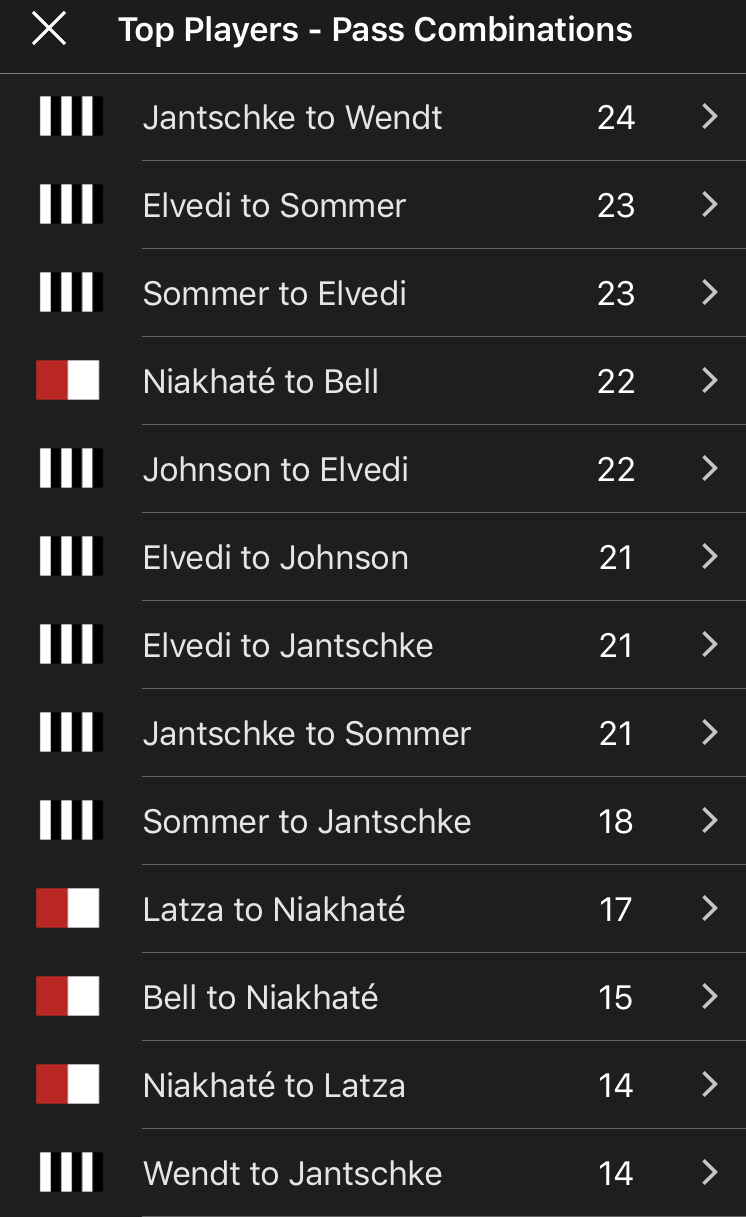 Apparently the forward pass is waiting to be invented….
All kidding aside, what probably happened in terms of game plan is that Gladbach knew that Mainz actually are tied for third with Hoffenheim in opposition third % with 29. Even in a rough Rückrunde that already saw FSV lose 5 matches, their pressing is a weapon to be accounted for, so BMG ended up controlling the game in their defensive third or in the middle. They completed 90% of their total successful passes (492) in those two areas, while losing the final third completions battle 49 to 87 to FSV. For comparisons, Gladbach completed over 130 passes in the win against FCA and in the loss to Wolfsburg, but even in the 5-1 demolition by Bayern, Borussia had 56 attacking third completions! We will have to wait and see if the now 3 point cushion, that was as many as NINE points just a month ago, ahead of fifth place will be enough….
---
Hertha and Wolfsburg lose ground in UEL race, Leverkusen, Frankfurt and Hoffenheim surging
Wolfsburg's foibles in Munich are at this point well-documented, while 8th place Hertha faced the always tricky trip to Freiburg and left empty-handed and fell to 10th. Vedad Ibisevic copied the Niklas Stark blueprint (goal + own goal) but unfortunately Marko Grujic did not score the second Hertha goal this time around. Special shoutout to Vinny Grifo, whose second assist - the first one a brilliant cross to Nils Petersen - to Nico Schlotterbeck was taken away by what was eventually ruled an Ibisevic own goal.
Sebastian Haller's exclusion from the starting lineup (though perhaps with an eye on the match against Inter that Eintracht will likely have to play without Ante Rebic) was a surprise. But it also meant a chance for Goncalo Paciencia, who scored another nice goal after the Hoffenheim game winner. Can you get sued for goal-plagiarism? https://www.reddit.com/r/eintracht/comments/b04m84/copy_paste_by_gon%C3%A7alo_paci%C3%AAncia_eintracht/
Anyhow, starting from the bench did not faze Haller, as he managed to score two classy goals in stoppage time to see off Düsseldorf. Hey at least they survived Jovic's five shots and didn't let the Serbian hit them for five again! Haller's 14 goals and 9 or 10 assists (depending on sources, kicker have him at 10, Understat and Whoscored at 9) put him on 24 units, just three behind Robert Lewandowski's league best 27 G+A and it's no secret that half of Europe would love to sign him….
In Sinsheim, Andrej Kramaric's annual spring revival continued with a penalty and a ridiculous backheel goal that was enough to overcome lowly Nürnberg. Hoffenheim should be able to handle Stuttgart next week, before a massive showdown against Leverkusen that will see Julian Nagelsmann go up vs Peter Bosz. I've already set the over\under on the number of words I'll write on 3k.
Bayer 04 went 2-0 up early against Hannover, thanks to the in-form Brandt+Volland duo, then needed some incredible luck and another Kai Havertz winner to see off the suddenly reinvigorated H96. Seeing how little Thomas Doll's tactics have worked so far, they might want to try to experiment with ordering a monsoon, or playing their next matches in a desert. I mean, what do you have to lose, Martin Kind?
By the way, it's mid March in northern Germany, and poor Genki Haraguchi can't believe it:
https://www.youtube.com/watch?v=EYJLll3kA-w
---
Dortmund against the Mercedes bus - analysis
"They parked a massive bus" - Lucien Favre in kicker
With Julian Weigl, Ömer Toprak and Mo Dahoud fighting the flu, plus Lukasz Piszczek and Maxi Philipp out, it was a shorthanded Dortmund side trying to recover from the UCL setback against Spurs. On Saturday, BVB needed all the help they could get against the parked Mercedes Benz bus of Stuttgart, in a match where even the elements seemed to be against BVB. Prior to the match, a hail storm came down and during the 90 minutes the wind blew constantly, with rain falling sideways…..
a blue umbrella in Dortmund???
Despite a mountain of possession and over 1000 touches (129 of them falling to Marius Wolf, which is not aesthetically pleasing), chance quality was even, with both teams at around 0.4 XG after an hour of play. But how they got there was indicative of the difference in approaches and the impact of Stuttgart's defense on the match: three of Dortmund's ten shots made it on goal (five were blocked!!) with Raphael Guerreiro's 42nd minute effort nearly tricking Zieler.
Having said all of that, VfB were probably unlucky not to take the lead on thirty minutes: Axel Witsel's first touch wasn't the best and after a nice slide tackle by Santiago Ascacibar, Steven Zuber had lots of time to figure out when Nico González was gonna make his run. Eventually, Achraf Hakimi's speed and the onrushing Roman Bürki did enough to disrupt the finish, but it was certainly indicative of the type of gamble that Lucien Favre had to take, in his extremely offensive 4-1-4-1, where Mario Götze and Marco Reus play as number 8s.
You see, the anti-BVB blueprint has been out and deep-sitting 5-4-1s and 5-3-2s with occasional organized pressing movements have been able to keep Dortmund from running over them, negating the vaunted BVB counter attack. This, plus the recent difficulties of BVB along with the hot form of Mario Götze has forced the risk averse Favre to take out Thomas Delaney and leave Axel Witsel as a single pivot. This with the fullbacks, Marius Wolf and Achraf Hakimi going quite high up could open up counter opportunities, though BVB's excellent counterpressing and Stuttgart sitting too deep prevented these most of the time.
(Wolf and Hakimi wearing out the sidelines)
It wasn't until former BVB player Gonzalo #BadCastro got cooked not once but twice by Jadon Sancho in the 61st minute that Dortmund took the lead via a Marco Reus penalty. On 68 minutes, after another attack initiated by Dortmund's best player in 2019, Mario Götze, Paco Alcácer failed to execute a chip in an eerily similar situation to the one he made against Zieler in the Hinrunde. Just a couple minutes later, Gonzalo #GoodCastro hit another set piece onto the head of Özan Kabak, Dortmund looked shell-shocked, much like Abdou Diallo, who remained frozen, and it was 1-1.
In light of recent developments, one could certainly think about Dortmund's nerves coming into play, but oh how we quickly we forget: BVB have scored the most goals after the 76th minute with 18 already:
Keen observers of the table above will also not that Stuttgart have shipped 17 in that same time frame, only behind Hannover's 18. As a side note, it's interesting that despite BVB's recent difficulties they have 38 second half goals, while the aforementioned Wolfsburg side have 39 on the SEASON! The point is that Dortmund were a solid bet to score….
In this case, the hero of the day was Christian Pulisic, whose determination and quick feet resulted in Alcácer's 14th goal of the season. The American ended up putting himself on the scoresheet in stoppage time, after Axel Witsel went Marshawn Lynch on three Stuttgart defenders. Markus Weinzierl applauded his team for its defensive effort and blamed bad luck for the ball ending up in front of Alcácer, though I wonder if the former Schalke manager might have been able to prevent the second Dortmund goal had he opted for more width in a 5-4-1 formation. Let's break it down:
Akanji's cross field pass sees Dortmund in a 3v2 on the left side, as Hakimi advances.
Although this action is preceded by a clearance, and thus both teams are in disarray, Stuttgart and Weinzierl could have recognized Dortmund sending 6 players forward and adjusted its formation to a 6-3-1, or at least positioned its defense more toward the far side where Hakimi was advancing. Especially, if they weren't going to pressure Akanji's initial pass…
While we are on the subject of playing Monday\Tuesday morning quarterback, let's move on to the Bayern match and look at some successful and not so successful strategies:
---
Bayern - Wolfsburg deep dive
-How not to defend Kimmich aka where is the Manuel Baum playbook?
Just a few weeks ago, Augsburg were able to exploit Joshua Kimmich's defensive frailties via a combination of targeted attacks, even from the opening kickoff, and man-oriented pressing. With the tricky Brekalo and the offensive-minded Roussillon, Labbadia certainly had enough firepower to attempt this, but either chose not to do so (in the 14th minute, Kimmich was pressed near his corner flag, but evaded two challenges and 8 seconds and a brilliant Thiago pass later Gnabry was 1v1 against William around Wolfsburg's box), or his players failed to execute. I only recall one occasion in the 26th minute, where Roussillon overran Kimmich on a counter, but the German was able to recover and concede just a corner.
Even in the first 25 minutes, Kimmich was able to receive the ball very high up the pitch in dangerous positions, and that doesn't account for his great 1v1 (embarrassing Maxi Arnold prior to the pass to Müller for 1-0) or finishing ability.
-Failure to launch counters + lack of set pieces = Wolfsburg can't score
For all the developments under Labbadia, VfL have scored just 21 open play goals, meaning 47% of their 39 goals have come from elsewhere: 4 from counters, 7 from set pieces, 5 penalties and two own goals to be exact. The fact, that Bayern allow the second fewest open play goals (16 behind Leipzig's 10) is no surprise, but perhaps it's surprising to some that they also have the second stingiest defense when it comes to set pieces. Only RBL have shipped fewer goals than Bayern (2 to 3), which has been leading this category for years now, with 6 set pieces goals conceded last season and just two the season before. Where Bayern have been vulnerable this season is on the counter. Their FOUR goals shipped is already double the output of each of the last three seasons (two every time) and the images of Dodi Lukebakio, Jadon Sancho or even Lucas Höler scoring on the break vs FCB are still fresh in everybody's mind. It would certainly have been vital for Labbadia's side to execute the few counter chances they would likely get vs Bayern on Saturday, but as a result of Kovac's pressing tactics, the poor passing (see below) and subpar performances, Wolfsburg put up nothing and not just when it came to counters: 0.16 XG on the night on just 4 shots is reminiscent of the times where HSV or Bremen would get shellacked by Bayern. Though, with structure and effort like this, it was never going to be easy:
With SEVEN Wolfsburg players jogging around their box, just who is Maxi Arnold supposed to launch the counter to?
-Simple passes gone awry, passing into the box non-existent
William, Knochem Gerhardt, Guilavogui, Arnold and Mehmedi all contributed to this disastrous passing map: it shows the failed passes inside the first 15 minutes, which prohibited Wolfsburg any kind of proper access to Bayern's final third.
During the course of the game, VfL would end up with ZERO completed passes into Bayern's box on THREE attempts, while they conceded heaps:
The other problem stemming from these turnovers was the instant counter attacks that they started, with chances for Gnabry, Müller and Lewandowski going to waste in the first thirty minutes. With Bayern dominating the possession numbers 78-22% from minutes 15-31, they didn't exactly need help, but they got it anyway.
-Kovac's focus on Guilavogui:
Of course, it's worth pointing out that Bayern's pressing - the one thing that has more or less been working all season under Kovac - was the culprit behind this dominance. One of the key aspects of Bayern's pressing, which varied in 4-3-3, 4-4-2 was to focus on Wolfsburg's CDM, Josuha Guilavogui. Knowing that Labbadia likes to play the ball out of the back with Wolfsburg often through the always available Guilavogui - who can hold off a lot of pressing players because of his strength - Kovac used a mix of James and Lewandowski in situational man-marking plus central pressing traps with Thiago and Javi to take him out of the match.
It worked wonderfully, as against Bayern we saw Guilavogui with only safe sideways passes compared to Guilavogui progressing the ball out wide vs Gladbach.
As the best example of this plan working out, let's take a look at what happens before 2-0: Central defender Robin Knoche plays a pass to Guilavogui, that frankly is troubling for a couple reasons. The Bayern defense is laying off Knoche and actually employs a pressing trap focusing on Guilavogui. Since, he has space, Knoche should probably take some of it and thus force James to press him. At that point the pass to Guilavogui becomes easier, because the Frenchman will only have to deal with Javi Martínez, and could turn two ways, if he wants to, instead of being forced back. Here is how that would look like:
In addition, a pass across the field to Roussillon is also available, albeit risky. But since James and Javi are already pressing Guilavogui BEFORE the pass, it's a pretty clear sign that Knoche should not be making it, because it's the pass that Bayern WANT.
But still, if Guilavogui's first touch were clean he would've had time to either play wide to Roussillon - negating James and Javi in the process - or a better back pass to Brooks.
I've drawn in the ideal pass (solid black arrow), to Brooks' LEFT foot, vs the actual pass he receives. It's one that will force the American to adjust his body positioning (see the next pic) and move to the right/use his right foot and eventually end in a panicky central pass/desperate clearance to Yannick Gerhardt. That is picked off by Thiago, who as only he can, wastes no time in recognizing the scene ahead of him.
Due to the pressing trap executed by James and Javi on Guilavogui and because of Wolfsburg's poor occupation of the central zones, Guilavogui is caught 1v2 in way too much space to cover:
Thiago's pass is well flicked on by Martínez and James can run in from the number ten spot 3v3 against three backpedaling defenders on half the pitch.
That usually only ends one way and James even has the cleverness to fake the pass to Lewandowski on the right, get Knoche to commit, turn William around and play in a gem to Gnabry who even makes the extra pass for the tap-in.
One could make the argument, that after 37 minutes, we were to use an NBA term in garbage time. While that may sound harsh for a team that was in fifth place just a week and a half ago, after James' 52nd minute strike made it 3-0, there was no longer anything to play for. Except of course the goal difference, which is nowadays all the rage in the Bundesliga, as Bayern and BVB are tied on points. Enter, Franck Ribéry who became the first player to assist 3 goals as a substitute in a Bundesliga game since the start of data collection [Opta], and with the six goal beatdown Bayern overtook BVB who managed to beat Stuttgart via two late goals, 3-1.
In the end, it seems the Wolfsburg ultras were the only ones who showed up in Munich….
Doing that to Der schöne Bruno, is just NOT NICE
When Bruno Labbadia walked into the Allianz Arena with a record of 14 losses in 15 games against Bayern (the lone win came with HSV in 2009\10), perhaps even he did not expect to add the 15th loss in such devastating fashion. For even after Bayern's humiliating 6-0 win over Hamburg Wolfsburg, the VW club remains the second best away team in the Bundesliga with 23 points from 13 matches with wins over Leverkusen, Frankfurt and Gladbach. Yet, the defeat, the worst away loss in Wolfsburg history, showed a team perhaps devoid of effort and belief. The rout comes at a bitter time for Labbadia, who is out of contract this summer with no chances for renewal after a contentious relationship with sporting director Jörg Schmadtke. "We have a relationship at work, we discuss the technical\tactical aspects of football, but we are not friends. We're not exactly exchanging cooking recipes or planning holidays together". The veteran coach has been making the usual media rounds with his trademark jovial honesty, and given the by and large successful campaign is sure to have some excellent offers this summer from the likes of Schalke, where he is rated highly by chairman Clemens Tönnies (old school German-Italian and Magath disciple = SIGN ME UP!!!) and new sporting director Jochen Schneider, whom he knows from Stuttgart, another potential suitor. Of course, the ever gentlemanly Labbadia frowns upon discussing these potential moves and said he has not been approached by anyone.
EDIT: the club have officially confirmed his departure and Bruno has thanked Wolfsburg, who are reportedly looking at Marco Rose as his replacement.
Where he will end up is up in the air, but I thought I would pay homage (or in my case penance for previous trolling) to Bruno with a little analysis of why his Wolfsburg side have, aside from this debacle, been one of the more interesting sides to watch in the Bundesliga:
Tactical corner - Labbadia's revitalized Wolfsburg
Such success is quite a shock given all of what the 53-year-old coach has achieved: installing a work ethic (inspired by his mentor Felix Magath) that began with summer runs in July, adapting a compact 4-1-4-1 / 4-4-2 defensive shape that relies on counters. All of this while also playing - and this really means playing, because Labbadia insists on his CBs and GK Koen Casteels playing the ball out of the back - in a 4-3-3 with aggressive counterpressing, or sometimes in a diamond 4-4-2. With a great season from the excellent shot stopper Casteels who also adds a lot of distribution, Wolfsburg are set up nicely. They possess two CBs in Robin Knoche and John Anthony Brooks capable of switching the field, as well as breaking the lines inside with pinpoint accuracy. At the number six position they got the human interception machine in Josuha Guilavogui, so overall VfL has a strong spine.
Add to that the deep-lying playmaking of Maxi Arnold and the rejuvenated Yannick Gerhardt in the left and right sided no. eight role. At fullback, die Wölfe roll out the physically and technically gifted duo of William and Jerome Roussillon, who might be the best LB in the Bundesliga this season, due to his penchant for moving inside to the left halfspace and confusing opponents.
In addition, the Frenchman, "stolen" from Montpellier for just 5 million Euros, has 38 completed dribbles on the year - good enough for 8th in the league - and provides world class link up play. The left-sided combination (pictured above) where Brooks has options to play wide to Roussillon or inside to Arnold is sometimes followed by the Frechman tucking inside and dragging his marker with him. That leaves the wing open for Brekalo/ the LW of the day, to go 2v1 with Arnold or Roussillon showing up in the left halfspace in good shooting positions.
In short, Wolfsburg are a very tough team to play against, because they can use creativity and athleticism on offense as well as being a difficult defense to crack. The anchor of the defensive unit is actually Wout Weghorst, the 197 cm (6ft 6 inches) tall Dutchman, who leads the Bundesliga in intensive runs and sprints while adding 9 goals on 9.7 XG. The wide\central attacking creativity typically comes from Admir Mehmedi, who at times played as the tip of the diamond in the 4-4-2 very effectively, or the speedy winger duo of the effective crosser, Renato Steffen, or the dribbling\counter threat Josip Brekalo.
Ideally against Bayern, Labbadia wanted to follow a similar blueprint, unfortunately aside from the occasional compactness and deep block defending, very little of his match plan worked.
As always, thanks for reading, spread the word, sign up and subscribe.
Abel