My Revierderby
Brief recap, a week later
First, apologies for missing the newsletter last weekend, but between getting the incredible opportunity to work the Revierderby for Sport TV Hungary, creating about 6 pieces of content and catching up on games, there was no time to write.
Now, I finally got some time, so I will briefly write on the experiences of an unforgettable Revierderby below. But first let me just add some highlights from the trip to Dortmund:
interviewing one of my childhood heroes Jörg Heinrich (in German, to be released later)

visiting the incredible Fussball Museum and seeing the history of tactics, witnessing German (East and West) football's past and present, strolling through the Bundesliga section with all the trophies, plus all those mammoth books on clubs

chatting with the legendary Derek Rae about all things football, he even did an interview with us where he discussed Hungarian/Aberdeen/(Dortmund) football legend Zoltán Varga and his commentary in FIFA 19

meeting a whole bunch of people in the industry that I've only known online

witnessing the Yellow Wall vs the Schalke ultras

experiencing a city captivated by football for days: this "fever" was low, since over 80% of people thinking BVB were gonna walk this derby (understandable given Schalke's horrid season)

---
The Derby has its own rules - so does VAR?
It's an old cliche that exists for a reason, but perhaps it was never more true than last Saturday, as Huub Stevens' Schalke clawed its way to a 4-2 win in the Signal Iduna Park. Their 5-3-2 block was so low, that Burgstaller and Embolo rarely crossed the midfield line and focused on blocking the Dortmund CDMs, Witsel and Delaney.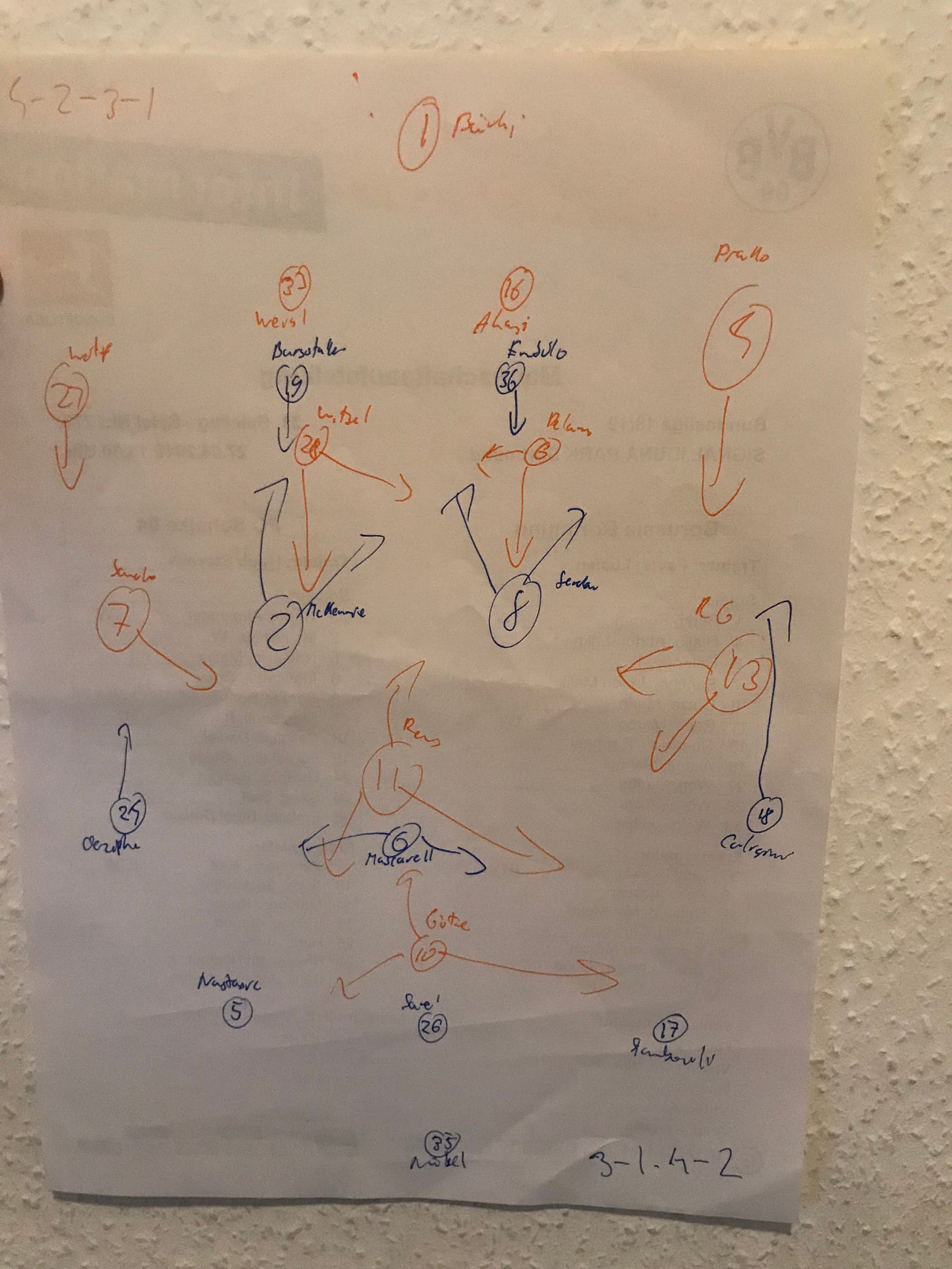 Dortmund had 81.5% possession (CBs Weigl and Akanji had 23% vs Schalke's entire team at 18.5) but save the excellent Sancho assist for Götze, the attack/build up was ponderous and predictable: Thomas Delaney had three of BVB's five shots (combined XG of 0.14) in the first half, which is not something Lucien Favre wants. The trouble for BVB was particularly noticeable on the right side, where due to Jadon Sancho's tendency to drift inwards (he would basically play as a no. 8 in the second half) the technically-limited Marius Wolf was left to drive forward with often no-one to pass to. None of his 37 attempted first half passes were even near the penalty, which for a team with 81.5% possession is pretty astounding. The pass map movie by 11tegen11\Between the Posts tells this story really well:
Dortmund ended the half with TWO completions inside Schalke's box - one being the opening goal after which they looked to be in the driver's seat. Everyone in the stadium wondered how Schalke were gonna make a game of it: Felix Zwayer was alerted by his colleagues that something happened in the BVB penalty area. Since the stadium doesn't have screens (I agree with my Talking Fussball partner Matt Hermann, that this is a MASSIVE missed opportunity even from a marketing POV) several colleagues in the press box (Ezequiel Daray of Fox Sports Argentina among others) gathered around to check out the replay. Apparently Guido Winkmann and VAR had spotted that Embolo's shot had deflected off the arm of Julian Weigl, and Daniel Caligiuri equalized from the spot. A quiet next ten minutes saw Salif Sané get hurt and continue, only for the Senegalese to take center stage and smash in a header from a Caligiuri corner in the 28th - this was the SECOND time Schalke entered Dortmund's box so far and they had two goals to show for it.
(some of the Schalke fans came late)
TACKLE EVERYTHING
Huub Stevens was the last Schalke coach to win a derby in Dortmund, back in 2012 and his brand of football ("die Null muss stehen" = "need a clean sheet") is seldom pretty. With a lead, the 5-3-2 got even deeper - Bastian Oczipka the LWB ended the first half with 2 successful passes, no Schalke player completed over 10 passes - and S04 focused on tackling. They succeeded about half the time, except for RWB Daniel Caligiuri who was tortured by Jadon Sancho and dribbled 4 out of 5 times. Caligiuri had to be pushed up to right sided midfielder and Weston McKennie played RWB. The fact that Caligiuri, who would later score the dagger free kick after Reus was sent off became the match's hero says just about everything of this wild derby.
TWENTY tackles attempted by Schalke in the first half, all in their own half!
Still, Schalke's bus-parking aside, they deserve a lot of credit: the CB trio of Nastasic/Sané and Stambouli hardly made any mistakes, Weston McKennie was closing down the slow BVB circulation with impunity. Omar Mascarell did a credible job of shadowing\keeping Marco Reus quiet and Suat Serdar was a constant counterattacking threat who earned TWO red cards.
Favre goes nuts, but does it politely
Against Schalke's deep block and occasional press, Lucien Favre made some early second half adjustments: he deployed Axel Witsel in between the CBs and formed a three chain in buildup, then by taking off Delaney and bringing on Alcácer, he actually switched to a 4-1-4-1/ 4-1-3-2 hybrid, depending on Götze's positioning. Unfortunately, the Reus and Wolf red cards and the Caligiuri free kick more or less killed off any chances of those changes working. Against nine BVB players, Schalke still rarely wanted the ball, it looked as if they were confused: "That's not something they were prepared for" - my commentator colleague remarked. Though, they did keep the ball in a 3-5-2 shape via the introduction of Sebastian Rudy for Caligiuri - even up to 86% between minutes 67-74, Dortmund would try a comeback. Incredibly, BVB, led by the tireless duo of Guerreiro and Sancho managed to have 72% of possession with NINE outfield players (some of this was by design by Schalke, one must think). Dortmund would briefly get back in it thanks to a beautiful Witsel goal after some switched passes between Akanji and Bruun Larsen. Just a minute later, Breel Embolo, who when we ran into him an hour and fifteen minutes before the game in the tunnel, looked like he didn't have a care in the world, killed the comeback and Dortmund's title hopes with a measured shot to make it 2-4. "Die Meisterschaft ist verspielt" - a shocked Lucien Favre announced at the press conference. The whole thing lasted just a few minutes, with the Swiss coach going on a rant (politely of course, he is Swiss,) about VAR\handball and "the people who made these rules never played football". Huub Stevens graciously admitted that the Weigl handball was nonsense and that was that. As I was walking up from the mixed zone to the presser, I actually was fortunate to catch their exchange during which Favre demonstrated how Weigl's positioning of his arms was completely natural ("is he supposed to cut off his arms?" while Stevens politely nodded. It was a genuinely endearing moment in what was a rather ugly derby - BVB fans came out with homophobic banners, Schalke ultras demanded "freedom for Sergei W" (the BVB bus bomber) - and I only wish I had had the courage to snap a photo. In my defense, my politeness\ avoidance of confrontation is somehow higher than that of Favre, plus the friendly looking, but gigantic BVB security guards didn't help much either. (Overall, the experience was world-class and the entire Dortmund team\staff deserve a massive round of applause.)
Too bad, it would have made for a killer photo. That's about my only regret from what was a once in a lifetime experience!
Gonna add some of the content we produced with the excellent Ádám Haraszti, in case some of you understand Hungarian:
at Dortmund Hauptbahnhof:
Ádám talking to the great Derek Rae:
podcast afterwards from the plane!
Thanks for reading,
Abel