Eye-catching Bundesliga players this season
Zack Steffen and Pavao Pervan as the two surprisingly best goalies?
There's been so many wacky team and coach centric stories in what's been the most competitive Bundesliga season from top to bottom in years. On an individual level, aside from the obvious Lewandowski praise, Sam Planting's stuff on Statsbomb great and the great Wout Weghorst story by Tobias Escher (in German), I haven't seen that many player specific ones - apologies to the ones I've missed. In this post, I'll try to mention\analyze some of those players that have not been discussed as much, perhaps because they are newcomers, overshadowed by other teammates, or for other reasons.
Let's start in goal with Pavao Pervan, the 31-year-old who followed Oliver Glasner from LASK to Wolfsburg, ideally as a backup\insurance if Koen Casteels were to leave this summer. The big Belgian stayed, but got hurt after 3 league games and many thought that VfL's 7 points in 3 matches would be a flash in pan, especially in light of the Xaver Schlager injury as well.
Instead, Pervan's conceded 3 goals in 5 outings, and ranks as one of the best shot stoppers in the big five leagues by Aidan Reagh, data analytics/GK expert, saving over 0.5 goals per match for VfL.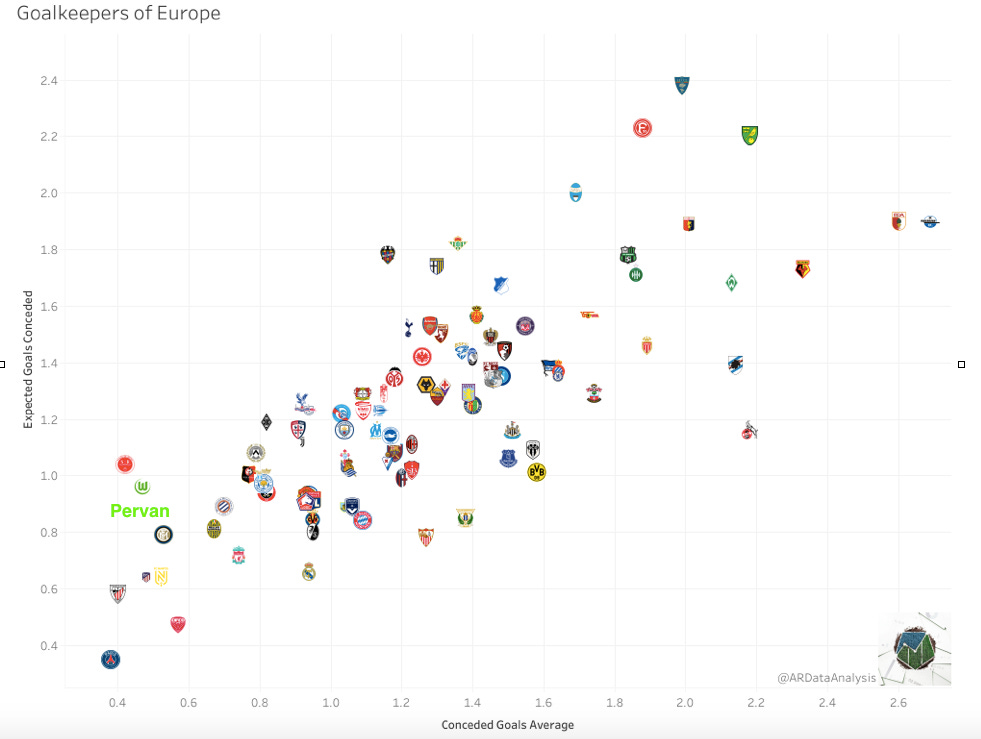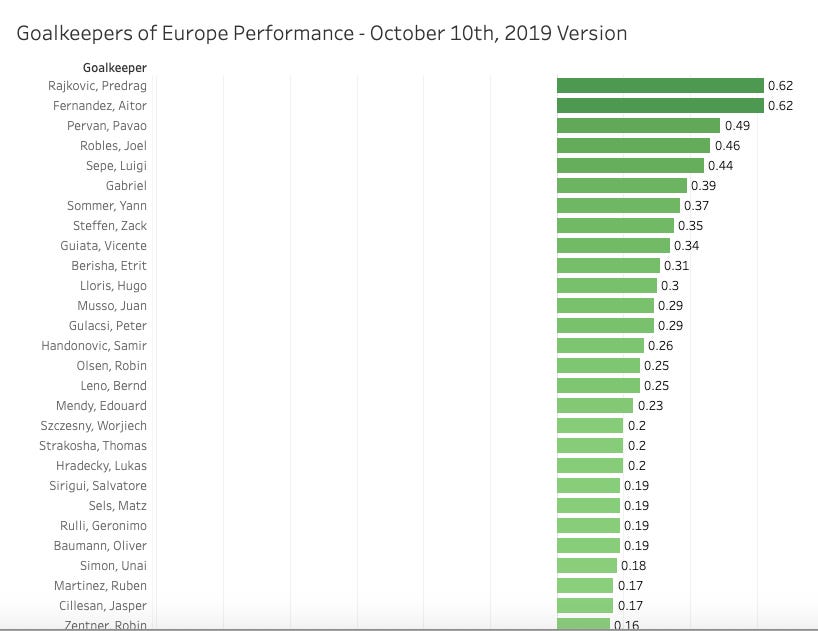 After coming up and training at regional league and then second division sides in Austria like FC Lustenau and Pasching, he signed a pro contract and moved to LASK in 2010 at age 23, but as he explains himself in a podcast, "I was never really rated all that highly at the youth levels, there were always keepers who were always thought of as better than me". The secret to Pervan's success has been something that is both elemental and hard to come by for back-up goalkeepers: playing time. With 302 professional matches and 27,000 minutes under his belt, one can understand the banality of a statement "regular playing time is fundamental for goalkeepers" - yet it's not really an area discussed. It's also hard to imagine established Bundesliga goalies like Sven Ulreich (44 starts in 5 Bayern season, mostly thanks to the 29 in 2017\18 when Neuer was out) Marwin Hitz (starts behind Roman Bürki in his second BVB season) or Rambo Özcan at Leverkusen (3 starts in 4 season, much to the delight of B04 fans) doing what Pervan did: asking Jörg Schmadtke to allow him to play for Wolfsburg's second team in the fourth\amateur tier! "Thankfully" with Casteels' injury that never materialized and Pervan who deputized for the Belgian in 9 league matches last year is already at 5 + 3 UEL outings, shipping a total of 7 goals and being a factor why VfL is still one of Europe's unbeaten teams.
ZACK (Steffen) ATTACK
If you squint real hard at the GK graph, you might notice a F95 badge and if you're an American you might realize that belongs to Zack Steffen. The Manchester City keeper used a strong Columbus Crew playoff season to earn an 8 million Euro move and was loaned out thanks to the ever-growing contact book of Düsseldorf sporting director Lutz Pfannenstiel, a man who knows a thing or too about playing in goal and traveling, having played on FIVE different continents. Of course, Steffen, the former Maryland Terrapin had already spent a rather unsuccessful spell at Freiburg's second team (14 Regionalliga matches, many with current Paderborn RB Mohamed Drager) right out of college. It probably helps that he is repped by the Wasserman group who also has Weston McKennie and Josh Sargent, enjoying life in Germany. With a league best 41 saves, (just like in the MLS last season) one could make the case that Steffen is saving Fortuna: a team that has 2 wins vs ten-man Mainz for 45 minutes and the opener vs Bremen, who wasted about 4 good chances inside the first 25 minutes. It's not exactly Steffen's fault that the replacements for the dynamic duo of Raman-Lukebakio (Ampomah/Tekpetey) have not kicked on and they lost deep lying playmaker Kevin Stöger in preseason.
In their loss to promoted Paderborn, Steffen couldn't do much about either Sabiri's rocket or Schonlau's flicked header and was quite excellent with his feet, though teams don't particularly press him or his team high.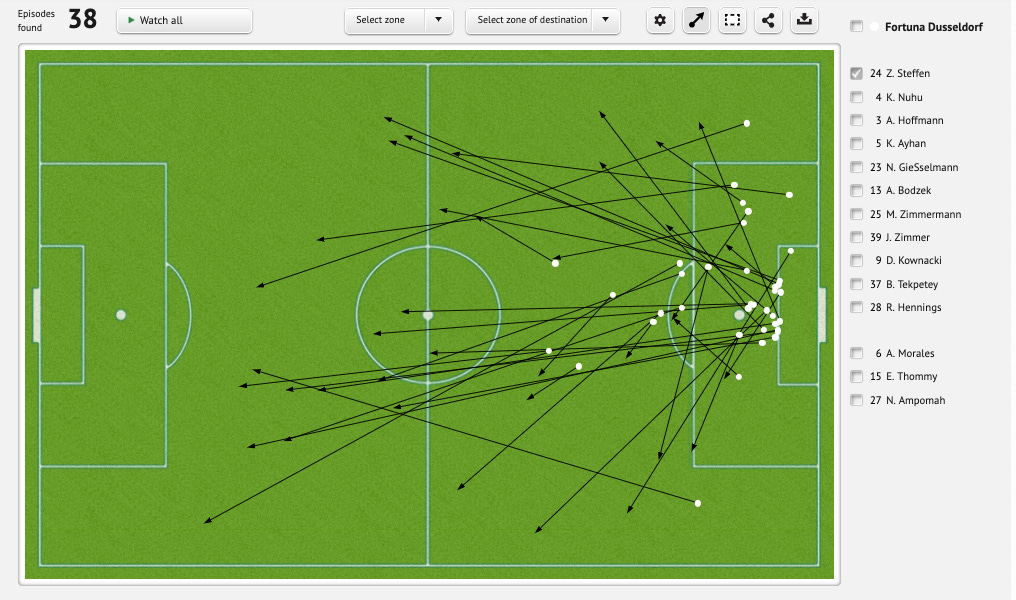 The interesting thing about the somewhat inconsistent and perhaps overambitious Steffen, is that even when he was playing as a sweeper keeper, he's made maybe one mistake in the Bundesliga: spilling a Pizarro shot that Davy Klaassen somehow missed the rebound on in the league opener, which oh by the way save him do these things:
He has also made massive 1v1 saves on Embolo, Bellarabi (twice early in the 2nd half) and saved a point blank Füllkrug header and saved Höler's penalty. It's not exactly his fault that his fault that his team can't hold a lead and lost all but the Bremen game.
Sure, he is conceding an almost career high 1.75 goals per game, but he's also facing over 6 shots on target per match and saving a respectable 71%, compared to the 3.5-4.4 and 65-69% range in MLS. He's been a revelation and at worst he might just be this year's Michael Esser/Oliver Baumann/Roman Bürki, aka the relegation threatened team's GK that saves a ton of shots and earns a (loan?) move to a bigger club.