Does the Bundesliga no longer have a middle class
recapping, troubleshooting and previewing Schalke, Hoffenheim and more
Hi everyone, apologies for not bringing the usual mix of overly-detailed tactics and data-laden analysis. There are a couple of reasons for it:
First, in light of a topsy-turvy season, in terms of results, the dominance of the top 5 (we have to include Leverkusen at this point) has quite frankly made things a lot less interesting from a performance analysis POV. I will of course touch upon the whys as well as some of the interesting takeaways below. But just some numbers to underline this point: in the last 3 weeks, Bayern, Leipzig, Dortmund, Gladbach and Leverkusen have gathered 39 of the potential 45 points going unbeaten with a goal difference of +37 (48-11). To put it another way, in this extremely small sample size, these teams are averaging 2.33 points per game, while for most of the season, only the recently dominant Bayern are above TWO. For the Rückrunde, none of these teams has more than one loss, with Leverkusen losing their customary xG shootout 2-1 to Hoffenheim (both teams nearly got to 3xG) but beating Dortmund in the 4-3 thriller, Leipzig slipping up vs. Frankfurt and Gladbach losing to the artists formerly known as Schalke 04 in the spring opener. In addition, four of these teams are unbeaten in European competition (five if you add Wolfsburg, who by most metrics are right in this mix of the best 5-6 teams) while Bayern and Leverkusen have also made it to the cup semifinals.

Simultaneously and often at the hands of these top 5 teams, the Bundesliga has experienced an elimination of its middle class. In the Hinrunde, the surprise stories of the 442 diamond pressing-machine of Schalke, or the switch to the 3CB system that allowed the wingbacks of Freiburg to bomb forward was a nice storyline. At the same time, you had the opening nine games where Glasner's Wolfsburg were the only unbeaten side in Europe alongside Juventus and shipped just 5 league goals, while the tricky approaches of Alfred Schreuder's flexible (we're gonna go with this euphemism instead of saying he just plays players in non-standard positions) Hoffenheim got the better of Bayern and Dortmund. You could also make the case for Frankfurt's brilliant first 10 games, the 11 game sample where Augsburg turned their season around and Union Berlin punching above their weight.

Thirdly, the D(FB)ietmar Hopp vs ultras saga has understandably taken the spotlight. Since I have created 4 pieces of content (2 videos, 2 articles in Hungarian and English) on that subject in like 48 hours, I will now focus on the first two reasons in two parts. In part one, I will take a look at the falling middle class, while in part two I'll examine the top 5 teams from the perspective of the last few weeks and beyond:
From middle class to no man's land
Let's start by checking in with the spring performances of the aforementioned middle-class teams. As per usual, these are based on my match observations/notes and some analytics. So accordingly, I have the following takes, which of course are meant to be not gospel, but rather conversation starters:
Schalke collapse or regression to the mean?
Since beating Gladbach with their pressing and some clever counters, Schalke have 3 points in 6 outings. The additional CB injuries (Kabak joined Stambouli and Sane) and now losing the likes of Mascarell (for the season), Caligiuri and Serdar as well as the Nübelgate have hurt their defense. In fairness, that part of the team was over performing in the Hinrunde to the tune of being 6 goals above their xG allowed. Regarding the GKs and in spite of the massive recent mistakes both Nübel (bloopers galore) and Schubert - a +4.3 post shot xG per fbref, but now set to be the starter of the rest of the season per David Wagner- are net positives. Interestingly enough, their pressing has become more intense by PPDA (down to 8.2 from 9.35 in the fall) and they allow fewer direct completions (5 vs 6 per game) this calendar year, they seem to get bludgeoned so easily, as we saw vs Leipzig, Cologne or Bayern. In the cup match against Bayern, they actually reverted to starting in a back 5 (they have used Mascarell as a third CB in possession for the better part of this season), making Paderborn the only team not to start a game with a back three/five in Germany. The result as well as the performance at home in a 0-1 loss to the Bayern juggernaut was certainly a credible one. Although ardent S04 fans would argue that with a little luck on a couple of pretty decent counterattacks it could have been more, the 5-4-1 was for the most part only able to slow Bayern down. (We'll get to whether more teams should use this in the Bayern section).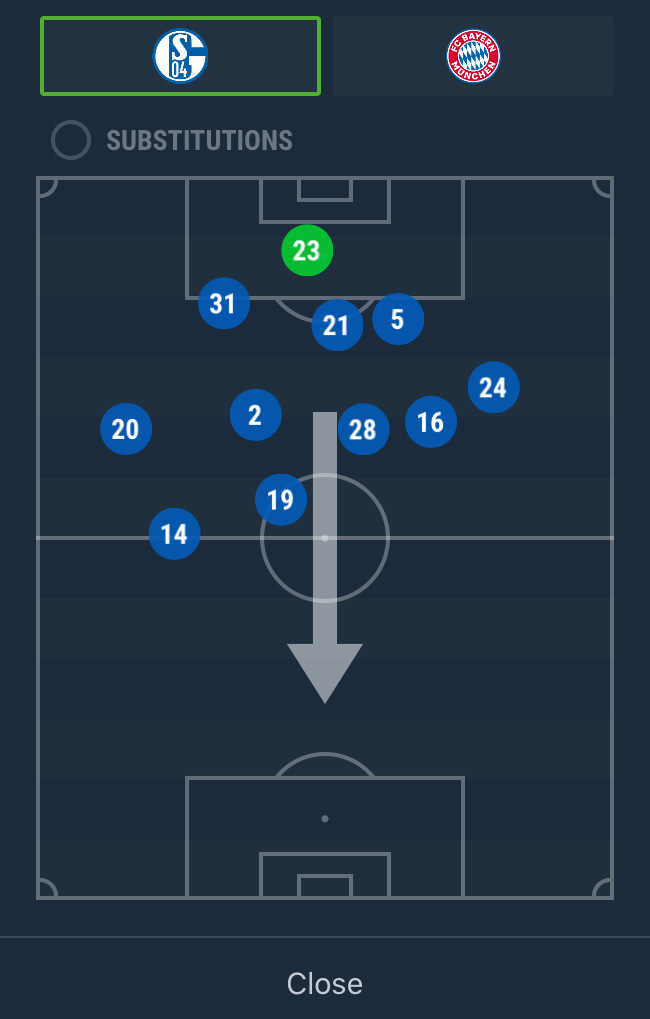 As you can see from the Sofascore average positional maps, being pinned so far back meant that Schalke rarely had numbers on the counters, and essentially Bayern skated by with playing Kimmich and Alaba at CB, plus Thiago as the lone DM, stifling most of them (and getting a few lucky bounces). So, while David Wagner has stopped the bleeding - conceding 20 shots, but only 3 on target perhaps also speaks more about the poor day Müller, Gnabry, Goretzka and Coutinho were having than a great defensive performance by S04 - he still has a major problem.
THE OFFENSE!
After that 2-0 Gladbach win to open the Rückrunde, Schalke have scored *checks notes* ONE goal (by the #freeKutucu movement) in six games. One of the culprits has been the FCA loanee Michael Gregoritsch, about whom the narrative after the Gladbach win was that he's gonna be the guy to help their attack do enough to compete for the UCL. Well, poor Mischa is at 2.8 xG, leading S04's attacking corps by a country mile, but he is tied for the Rückrunde lead with one goal with two others, Serdar and Kutucu. There just isn't much else, since Wagner still does not trust Kutucu to start for some reason. Not surprisingly, both Serdar (who has still been a difference maker) and Amine Harit have come back down to Earth after their massive xG outperformances - they scored 12 Hinrunde goals vs an xG of 6 - although 0.5 combined xG and a lone Serdar goal in 845 minutes perhaps needs a stronger crashing metaphor. I don't wanna say things are bad in Gelsenkirchen, but they've resorted to starting Guido Burgstaller, a big win for those who enjoy the rugged/down on his luck 80s footballer look, less so for those who prefer scoring goals.
Of course, the funniest part about all these Schalke problems is that despite their awful run, they still retain 6th place, as Freiburg and Hoffenheim also gathered just 7 points out of 7 matches. Incidentally, the Royal Blues take on TSG, the strangest team in the league.
Hoffenheim aka the weirdest team in the league
Hoffenheim's season - about which I was involved in a great discussion on the TFA podcast here - has more or less been made by their 5 game winning streak in early October-November. Although their end to the Hinrunde and some good Rückrunde results have given them some hope for the UCL spots, those were dashed pretty quickly: one can come out on the right end of a high variance game (Leverkusen) just as much as on the wrong end (Freiburg) with some refereeing stuff (Wolfsburg).
Essentially, TSG are a two-faced team that can either be a fun build up-based cum counterattacking force against bigger teams, or a dull/ponderous ball circulator who struggles to progress the ball against presumably weaker teams and offers little in the way of resistance against counters. We saw the former against Gladbach and Leverkusen and Wolfsburg in three really open and fun games, while the ponderous/poor ball circulation plus struggles in defensive transitions were more evident vs Frankfurt and Freiburg, while the Bayern match was just a one-sided battering.
For Schreuder, who has been vocal about needing reinforcements (and got some of them during the winter transfer window) there are some issues in remaking the team on the fly: losing Dabbur and Adamyan up top has hurt their pressing and combination play, while Andrej Kramaric struggling with injuries has left them with only the counterattacking threat of Ihlas Bebou, who struggles in combination play. They have needed to use 17-year-old Maximilian Beier, who at least is familiar with the concept of losing to Bayern by six goals, having lost 6-0 with the U19s on February 15th. Speaking of six goals against Bayern:
I attempted to predict some of their ways of overcoming the vaunted Bayern press - in my preview I had noted that they could use Zuber's passing as a right-footed LB to progress inside and or out on the wings - none of which materialized, as the clever positioning of Müller and co plus the brilliant counterpressing of Thiago (see the first goal) just stifled TSG and the game was effectively over after 14 minutes.
Lately, Schreuder, whose greatest hits include playing a LCB at LWB, a CM at false 9, a CB at RB, poor Sebastian Rudy at RB, has ended up playing the Danish duo of Robert Skov (he was of course the LB early on, despite excelling as an inverted RW in Denmark) and Jakob Bruun Larsen as wingers. Skov comes inside to his brilliant left foot and is a handful to deal with - they targeted poor Oscar Wendt in the first half of the Gladbach match, with the Swede unable to deal with Skov - but perhaps lacks that top end speed to really break away on counters. Bruun Larsen on the other hand offers a lot of directness in his play, but struggles to make complicated decisions (he is a wonderful one touch/take the only option player, if one recalls his BVB days) in the final third. Yet, at 6.5 dribbles per 90 you can see why JBL is getting minutes and he still has a lot of upside.
The star of the show has undoubtedly been Austrian Christoph Baumgartner, a 20-year-old Austrian who had made his debut late last season under Nagelsmann and has now got the second most minutes in the Rückrunde behind Benjamin Hübner. Although he is not a physical presence on paper (1.78 m or 5'10, and 68 kgs or 150 lbs) he is deceptively strong and quick in duels, while also remaining a really good dribbling threat at 2.8 attempts per match. In addition to being an excellent and alert pressing player, Baumgartner's always been able to create his own shot, with a whopping 3.7 per 90. Now that finishing has improved with two goals to add to his Hinrunde one, he could be the solution going forward. It'll be interesting to see if Schalke
Freiburg, Cologne and Wolfsburg
Rounding out the top 10 and the middle class are the falling Breisgauer from Freiburg, about whom there's just not that much left to say:. Having a -14NPxG difference in the Hinrunde and outperforming their expected points by 8 thanks to some timely set piece goals, and a sublime goalkeeping team effort (Schwolow and Flekken are two of the GKs, who basically never leave their lines, but had 80%-ish save percentages) was unlikely to last given the injuries to Luca Waldschmidt and Nils Petersen. Predictably, as Stefan Buczko astutely pointed out on the Yellow Wall Podcast, they struggle to create much from open play, but even then, 8 of their last 11 have been set pieces, in what appears to be an 11 game sample.
Cologne are a team that I've been surprised by and Markus Gisdol is the runaway winner of my coveted "Bruno Labbadia Memorial Award for a Coach who I've come to respect" for the season. While I've promised the wonderful Effzeh Twitter that I will not jinx them with an extended analysis, it's worth mentioning that Gisdol's turn to the youthful Jakobs/Katterbach/Rexhbecaj (previously Thielmann) trio has been a smash hit. Despite getting crushed by the big three of Bayern/BVB/Leipzig to the tune of 13 to 3 (and losing to Union in Köpenick, which happens to the best of teams named Borussia even), they have beaten up on everyone else and have 23 points in the Gisdol era. The way they have done it is with their aggressive pressing: I think PPDA probably does not do it justice and/or the 3 big losses where their numbers are between 15 and 30 is messing up the average, some wonderful set pieces (did you know they lead the league with 14 set piece goals??) and some brilliant counters via Jhon Cordoba who has NINE goals in that span - more than Robert Lewandowski and his 9 non pen goals also beat Werner's 8 (he has 2 penalties), so effectively only trailing Jadon Sancho's 11! Lately, Cologne have gotten a lot of nice contributions (and I don't mean playing Hertha, although that helps too) from fringe guys like Florian Kainz or Elvis Rexhbecaj, effectively a cast-off from Wolfsburg, who has been running counterattacks with amazing efficiency in the last few weeks. With Paderborn, Mainz and Düsseldorf as their next 3 opponents along with the Rheinderby vs Gladbach, that 5-6 point gap to 7th place and Europe appears within reach. Surely, I did not just jinx them……
Given that with 12.73 expected points, Wolfsburg are third in the Bundesliga in the Rückrunde, they also are worth talking about: after the horrendous November and Hinrunde finish they began their spring season with two losses. Both were fairly unfortunate given the plethora of early chances vs Köln and the lost 3 points to Hertha - even BSC fans agreed it was a win, stolen from the Volkswagen Arena.
The good news is that Wout Weghorst, responsible for missing those chances vs Köln has now found his goalscoring boots after going roughly 600 minutes without a goal. In addition, in the much more open 4-3-3, guys like Renato Steffen (4 goals and a couple of beauties) are thriving, while they also get contributions from fringe players like Daniel "if he ever stays healthy" Ginczek and Yannick "still a talent at age 25" Gerhardt, who have 2 goals each in the Rückrunde. With the return of the Swiss army knife, who happens to be Austrian, Xaver Schlager, their pressing and counterpressing is improved and they can still play the destroyer-creator duo of Guilavogui and Arnold. While the injuries and suspensions to key defenders like William and Marin Pongracic have hurt - they have shipped 12 goals in 7 contests, vs 18 in 17 matches in the Hinrunde) they have undoubtedly become much more fun to watch thanks to a more open style. The bad news for them is that they play Leipzig, Dortmund and Leverkusen in 3 of their next 4 (and still have to play Gladbach, Schalke and Bayern on the final 3 matchdays), so they could drop out of the European races.
Will be back with part 2, looking at the top 5 teams over the weekend!