Bundesliga Endgames - will history repeat itself?
looking back at the Bundesliga's wildest finishes, while looking forward to MD 34
Given Bayern's recent dominance and tendency to wrap up the title in February\March, Bundesliga fans would be forgiven for thinking that last matchday dramas are not common in Germany. On the contrary, the Bundesliga and deciding games aka "Endspiele" are quite a partnership, and thanks to the football Bible kicker we can relive the most important ones. In 1965, a year after 1.FC Köln won the inaugural Bundesliga title, ahead of a club then called Meidericher SV - better known as the recently relegated to the 3. Liga MSV Duisburg -, they could only muster a 2-2 draw against third place Borussia Dortmund. The 3-2 win in Nürnberg by Werder Bremen, who thanks to conceding just 29 goals in 30 matches, lead throughout their way to lifting die Meisterschale. On the final 1978, Köln were in an even better position against arch rivals Gladbach, ten goals ahead on goal difference with a match against league-worst St. Pauli. Though, they won 5-0 in the end, they would need almost all of those goals, as the Foals must have given them a scare with a historic 12-0 thrashing of BVB.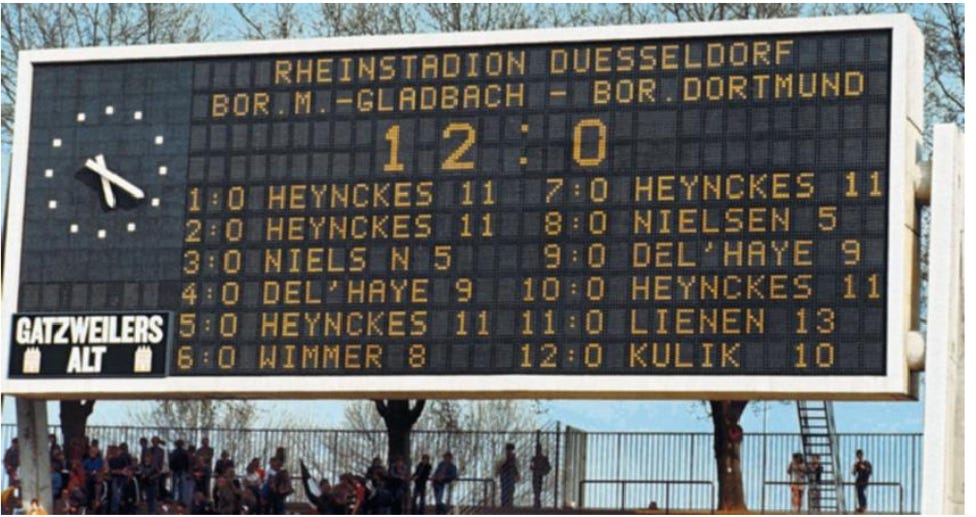 After 37 matchdays in the 20 team 1991/92 Bundesliga, there were three teams still with a shot of winning it all on the last matchday.  Goal difference was favoring Eintracht against Stuttgart and Dortmund, but SGE managed to lose 2:1 to relegated Rostock and give us the all timer "Lebbe geht weider" (life goes on) quote from Dragoslav Stepanovic. Thanks to an assist by Michael Zorc and a goal by Stephane Chapuisat, Dortmund won in Duisburg 1-0. Stuttgart looked the unlikeliest of teams to win, especially after Matthias Sammer got sent off in the 79th minute, but Guido Buchwald's 86th minute header mean that after 1983/84, VfB were Bundesliga champions again! Given the dominance of FC Bayern in the new millennium, 2000 and 2001 seemed like preordained scripts. First there was Michael Ballack's own goal in Unterhaching - a team that, as part of the mind games, then Bayern captain Stefan Effenberg called "the best team in the Bundesliga" when all Leverkusen needed was a draw; as Bayern won 3-1 vs Werder, it all went a long way to establishing the NEVERkusen moniker.
https://www.youtube.com/watch?v=X-5VI7Mq3uQ
Then a year later it was Schalke's turn in what German media called "the mother of all endgames": three points behind FCB prior to the last matchday, Huub Stevens' Schalke overcame a 0-2 deficit and beat Unterhaching 5-3. Meanwhile, even without the suspended Niko Kovac, HSV were tied 0-0 against the mighty Bavarians, missing the suspended Salihamidzic, and the match was going into stoppage time. Incredibly, in the 91st minute, Sergej Barbarez got on the end of a Marek Heinz cross, and beat not only his marker, Patrik Andersson, but also the great Oliver Kahn, who had been outfoxing him all afternoon!
Despite the efforts of Rudi Assauer and Stevens, Schalke fans stormed the pitch, and former midfield enforcer turned director of football Andreas Müller is already thanking HSV, and all of Gelsenkirchen is celebrating the end of the drought since 1958!
BUT HOLD ON! There are some images and news coming through the wire: the crowd outside Veltins Arena is watching and millions of TV viewers watching on screens are realizing that Bayern have gotten an indirect free kick inside the HSV box. In the Gladbach days, Andersson would take them regularly, but with Effenberg, Michael Tarnat and Mehmet Scholl, Bayern had several better options. Still, as Andersson explains years later, "Effe decided I should smash it and score" Whether it was the the whole opened up in the HSV wall by the substitute Andreas Fischer, sheer luck or destiny is irrelevant now, as the Swede's ONLY goal for Bayern crowned FCB Bundesliga champions. Schalke remained "four minute champions" and the game entered Bundesliga lore.
In 2009, HSV legend Felix Magath, was now coaching Wolfsburg and doing a tremendous job of it. Ironically, "Qualix" who won back to back doubles with Bayern, was let go by Bayern midway through the 2007 season. After his less than charming leadership style (going ten days without talking to anyone after being eliminated by Milan from the UCL) and stubbornness (German dictionaries actually have a picture of Magath with medicine balls next to the definition of the word) led to his exit from Bayern, Magath's Wolfsburg showed that Bayern can in fact be beaten for the Bundesliga title. For Bayern to be outwitted, we only needed the craziest Bundesliga season in recent memory - and of course the usual FC Hollywood nonsense. It was only fitting that the Bundesliga's third youngest team coached by "the lord of medicine balls" would be the ones to do it in shocking fashion:
VfL were in NINTH place at the winter break, as Bundesliga newcomers Hoffenheim shocked the league via 17 Ibisevic goals in the Hinrunde and were ahead of Bayern on goal difference. With Ibisevic doing his ACL, TSG sunk, while Jürgen Klinsmann's Bayern lost back to back games to Hertha and Cologne then got eliminated from the cup by Leverkusen. The most memorable game was of course the 5-1 loss to Wolfsburg, where Grafite scored perhaps the greatest solo goal in Bundesliga history and a 4-0 loss to Barcelona meant that Jupp Heynckes was to succeed Klinsmann. Despite winning every game, even don Jupp couldn't beat Hoffenheim on matchday 33, which meant that going into MD34, four teams could still be champions:

Despite featuring names like Dárdai, Raffael and Piszczek, Lucien Favre's fourth place Hertha team got crushed, thanks to Lars Stindl's excellent playmaking,  4-0 by Karlsruhe, although Cottbus' 3-0 victory rendered the win meaningless for KSC, who had to go down to the 2. Liga. Thanks to a great Franck Ribéry game and Mark van Bommel's winner Bayern defeated third place Stuttgart 2-1, with Mario Gomez scoring the consolation goal to the Swabians who collected 39 points from the Rückrunde! Bayern thus ensured Champions League football, and hoped that Wolfsburg would be held by Claudio Pizarro's Werder, who had just lost the Europa League finals against Shakhtar Donetsk 3 days earlier. The VW stadium witnessed a great afternoon of football, as eventual DFB Pokal winners Werder scored one of its 7 chances, while VFL made 5 of its 10 and after taking a 3-0 lead on 26 minutes, won 5-1. Grafite scored two to give him 26 and die Torjagerkanone while outgoing coach Felix Magath crowned his farewell match by bringing the salad bowl to Wolfsburg!! Winning 14 of 17 Rückunde matches with a 45-16 goal difference and 42 points to Bayern's 30 certainly meant that VfL were deserving Bundesliga champions.
Given that perhaps the greatest strength of the Bundesliga is precisely its history, might we not see something unthinkable on Saturday? Knowing what we know, the only question perhaps remaining is: will it be in Borussia Park as Dortmund try for the "Hail Mary" against Gladbach, or do Eintracht, after a grueling season which saw them written off as relegation fodder and nearly make the Europa League fines, have a shock left in them at the Allianz Arena against Bayern?